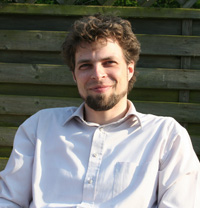 Dr. Sascha Jockel
address:
University of Hamburg
Faculty of Mathematics, Informatics and Natural Science
Department Informatics, Group TAMS
Vogt-Kölln-Str. 30
D-22527 Hamburg
position:
scholarship holder, scientific assistant
room:
F-407
phone:
+49 (0) 40 42883-2430
fax:
+49 (0) 40 42883-2397
e-mail:
further
information:
My webpage in the CINACS international research training group.
My personal webpage.
Note:
In October 2009 I joined the Diagnostic X-Ray (DXR) Development team of the Philips Medical Systems DMC GmbH. DXR develops, manufactures, sells and maintains highly complex medical devices for conventional and digital X-ray imaging.
You can still contact me via my university email address.